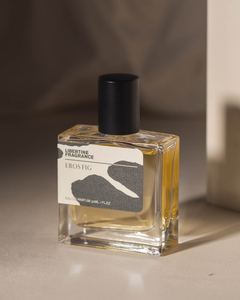 Libertine Fragrance Eros Fig Eau De Parfum
Our eau de parfums are blended with pure organic perfumers alcohol. They are blended, filtered and bottled by hand in our Canadian scent studio.
Description:
As fig leaves fall a grand feast presents itself; biting, clinching, consuming. Sweet juices course freely between tender grecian fruits.
Scent Profile:
Bitter, Green, Warm, Sweet

Key Notes:

TOP Citrus, Warm Spices, Black Currant, Green Fig leaf
HEART  Dried Fig, Coconut, Sandalwood
BASE Benzoin, Honey, Ambrette Seed 
All of our scents are vegan and cruelty free. We use a blend of natural and synthetic materials in our scents, especially where the natural equivalent faces sustainability or safety concerns.
Mixed by hand in Edmonton, AB Canada