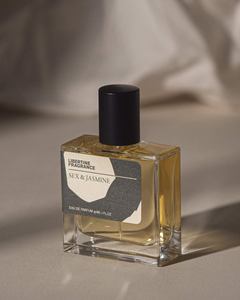 Libertine Fragrance Sex & Jasmine Eau De Parfum
Our eau de parfums are blended with pure organic perfumers alcohol. They are blended, filtered and bottled by hand in our Canadian scent studio.
Description:
The intoxicating aroma of swollen jasmine blooms linger over silken vanilla sheets. The midnight sweat has half erased our floral masks and we collapse, panting triumphant into our animal selves.
Scent Profile:
Floral, Warm, Animalic

Key Notes:

TOP Jasmine Sambac, Geranium
HEART Jasmine Sambac, Neroli Absolute, Vanilla Bourbon Extract
BASE Sandalwood, Aged Patchouli Essence, Ambergris
 All of our scents are vegan and cruelty free. We use a blend of natural and synthetic materials in our scents, especially where the natural equivalent faces sustainability or safety concerns.
Mixed by hand in Edmonton, AB.