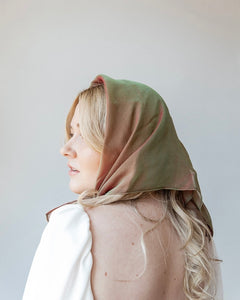 Charlie Paisley Selma Chiffon Hair Scarf
The Selma Hair Scarf is handmade in Vancouver from silk chiffon. Handmade accessories are made in much smaller batches compared to their mass-produced counterparts and are thus much more environmentally friendly and not nearly as ubiquitous.

Product Details:
65-66 cm x 65-66 cm (25.5-26 inches x 25.5- 26 inches)
Content:
100% silk. Wash cold by hand, hang to dry.