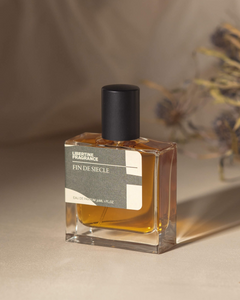 Libertine Fragrance Fin de Siecle Eau De Parfum
Our eau de parfums are blended with pure organic perfumers alcohol. They are blended, filtered and bottled by hand in our Canadian scent studio.
Description:
Swing loosely you rose blushed tarts. Modernity bides while you explore each others palace of senses. Do not waver from your animal intentions. Let the world bemoan the words that slide from your tongue at the altar of your indulgence.
Scent Profile:
Dark, Floral, Animalic, Woody

Key Notes:

TOP Bergamot, Bitter Orange
HEART Egyptian Rose, Black Currant Bud
BASE Woody Notes,

 Mossy Notes

, Civet
All of our scents are vegan and cruelty free. We use a blend of natural and synthetic materials in our scents, especially where the natural equivalent faces sustainability or safety concerns.
Mixed by hand in Edmonton, AB.