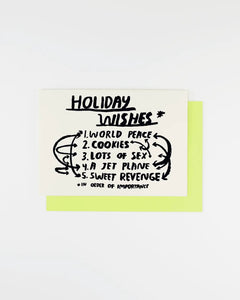 People I've Loved Holiday Wishes Card
It may not be Santa's lap anymore, but grown ups get to make wish lists too. Think carefully, rearrange as necessary, and wish really hard for sex...I mean jet planes...I mean, world peace. Happy Holidays!
Product Details:
Letter-pressed by hand 

on archival-quality card stock with green envelope.

3.5" x 5"

Blank inside
Made in Oakland, CA.