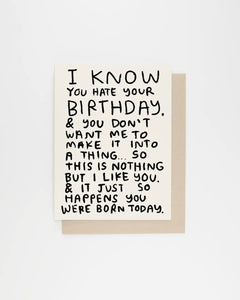 People I've Loved I Know You Hate Your Birthday Card
I swear I am not making it into a thing, it's just that I casually saw this card and wanted to take a really quick moment to celebrate the fact that you are alive and in this life with me and that I am really lucky to know you. That's all.
Product Details:
Letter-pressed by hand on archival-quality card stock with kraft envelope.

4.25" x 5.5"

Blank inside
Made in Oakland, CA.