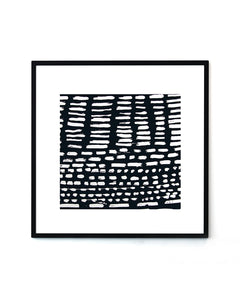 Unframed print

Print size: 13" x 13"


Image size: 11" x 11"

Paper: 100% cotton fibre, acid & lignin free
Illustrated by Tafui
Tafui is a Visual artist who is originally from Xaymaca / Kingston, Jamaica. She is best known for her modern abstract black & white painted patterns and intricate line drawings. Her work has been exhibited around the world and has represented Jamaica in various international art exhibitions. Tafui's art is in various public and private collection including the prestigious Band of Jamaica, City of Ottawa & City of Vancouver Art Collection. She lives in Vancouver, BC.
From the artist: 
Tafui's work is a fusion of Nordic and Japanese minimalism with the hand made aesthetic of reverse painting of the Banana people. This piece in particular was heavily inspired by the ancient textile art form called Bogolanfini. It is reflected in the use of colour and the geometric shapes.
This print began as abstract painting by Tafui. It was then scanned and slightly edited to achieve the best reproduction quality. It is printed on a beautiful archival matte heavyweight fine art paper.